Texas Tribune: It's been one week since Harvey hit Texas. Here's what you need to know.
It's been one week since Hurricane Harvey — which was downgraded to a tropical depression on Wednesday — hit the Texas coast. While the rainfall may be in decline, the floodwaters are only beginning to recede, and it'll be weeks, if not months, before Houston resembles itself.
In a statement Thursday, Gov. Greg Abbott announced he had sent a letter to county judges outlining the types of assistance counties can receive, and he also provided information about aid eligibility for areas affected by Harvey. "I want all Texans to know that Texas is committed to helping them through the recovery process, and we will be with them every step of the way," Abbott wrote.
Here's what you need to know:
A morning explosion
Thursday morning started with an explosion at a flooded-out chemical plant in Crosby, Texas. Arkema Inc. said the Harris County Emergency Operations Center notified the company at 2 a.m. of two explosions and black smoke coming from its Crosby plant, which was inundated by floodwater.
Thursday morning started with a reported explosion at a flooded-out chemical plant in Crosby, Texas. Arkema Inc. said the Harris County Emergency Operations Center notified the company at 2 a.m. of two explosions and black smoke coming from its Crosby plant.
Following the explosion, a Harris County Office of Homeland Security and Emergency Management spokesman tweeted that there was a mandatory evacuation in place for those living 1.5 miles around the facility.
On Thursday morning, the Harris County sheriff described the incident as a chemical reaction, not an explosion. The Harris County Fire Marshal's office and the Harris County Sheriff's Department downplayed environmental and public health risks from the plant.
The fires might not fizzle out soon, however. Officials say they expect more fires as a result of the flooding chemical plant. Richard Rennard, an Arkema spokesman, added that people who were exposed to smoke or fumes from the plant should seek medical attention, according to reports from USA Today. Ten to 15 people have already gone to the hospital as a precaution, though many were released.
Areas east of Houston are currently getting hit the hardest
U.S. leaders make their rounds in Texas
Federal officials are still looking for ways to help the storm-ravaged coast. President Donald Trump visited Texas Tuesday and, according to multiple reports, will likely return to the state this weekend to visit the harder-hit Houston area.

White House Press Secretary Sarah Huckabee Sanders said Wednesday evening that the Trumps are "looking into some different options" for making personal donations for Harvey relief. Sanders also noted that Trump has talked "extensively" with Abbott as well as mayors from several cities that were hit the hardest.

Speaking of Trump: The President spoke by phone with Abbott Wednesday evening while aboard Air Force One with Chief of Staff John Kelly.

Vice President Mike Pence is headed to Corpus Christi International Airport Thursday  morning to assess Harvey's destruction and meet with families who were impacted by the floods. Pence will be joined by Labor Secretary Alexander Acosta, Secretary of Transportation Elaine Chao and Secretary of Energy and former Texas Gov. Rick Perry, the White House announced. Pence's arrival comes just a few days after Trump visited Austin and Corpus Christi.
The storm is backing off, but the damage isn't done
Overnight, six more fatalities were confirmed, putting Harvey's death toll at 31 so far. According to the Associated Press, the most recent deaths include a man who stepped on a live electrical wire in floodwater and an evacuee who was found unresponsive on a charter bus. Most other deaths were a result of drowning.

Despite these tragedies, Houston is trying to move forward. Bus service and the city's light rail system resumed on a limited basis starting Thursday and the city's trash collection began Wednesday evening.

Houston Mayor Sylvester Turner tweeted Thursday morning that Houston Police made water rescues of 18 people overnight. "Crisis ebbing but far from over," Turner tweeted. "Our first responders [are] saving lives every hour."
Read related Tribune coverage:
Author: ALEX SAMUELS – The Texas Tribune
***previous story 8/30  1130p
Texas Tribune: Here's how much rain Harvey has dropped on Texas
Harvey has dropped more than 50 inches of rain on parts of Southeast Texas in less than a week.
Read related Tribune coverage:
Authors: ANNIE DANIEL AND RYAN MURPHY
***previous story 8/30 105p
Texas Tribune: In Harvey-Swamped Houston, Rescues by Canoe, Kayak — Even Monster Truck
HOUSTON — Chris Ginter propelled the monster truck cautiously but purposefully through feet-high green-brown floodwaters, past submerged mansions.
Families were surely still inside, huddled on the second story prepared to wait it out until the water receded. But as the water continued to rise and word of a mandatory evacuation began to spread, many had decided it was time to leave.
And when they did, they turned not to law enforcement or government emergency response teams but to neighbors and citizen volunteers, people who had rallied kayaks, canoes and fishing boats and formed informal bureaucracies to organize rescue missions.
Ginter's monster truck — his brother's, actually — was perhaps the most glorious rescue vessel of all, rivaled only by an imposing air boat that sent up an impressive spray from its fan as it accelerated back into the neighborhood to pick up more people. Other rescuers — mostly male — wolf-whistled at Ginter's truck as it glided through the water, its 55-inch tires creating a wake that angered other rescuers in smaller watercraft. "You're making me look bad, man!" enthused another rescuer with a slightly smaller truck.
After days of punishing rain from Tropical Storm Harvey, the sprawling metropolis was so waterlogged — it's being called the worst flood in U.S. history — that stretched-thin law enforcement had urged residents to use whatever means they had to rescue their neighbors. (A Harris County Flood Control District official said that as much as 30 percent of the county, home to the 600-square-mile city, was flooded by Tuesday afternoon.)
Good samaritans like Ginter, a 34-year-old commercial real estate developer and Houston native, gladly heeded the call, and by Tuesday — his third day on the job — he was clearly high on the good karma that come with repeatedly rescuing people. Strangers had gotten his cellphone number through word of mouth and called him seeking help. One caller was familiar.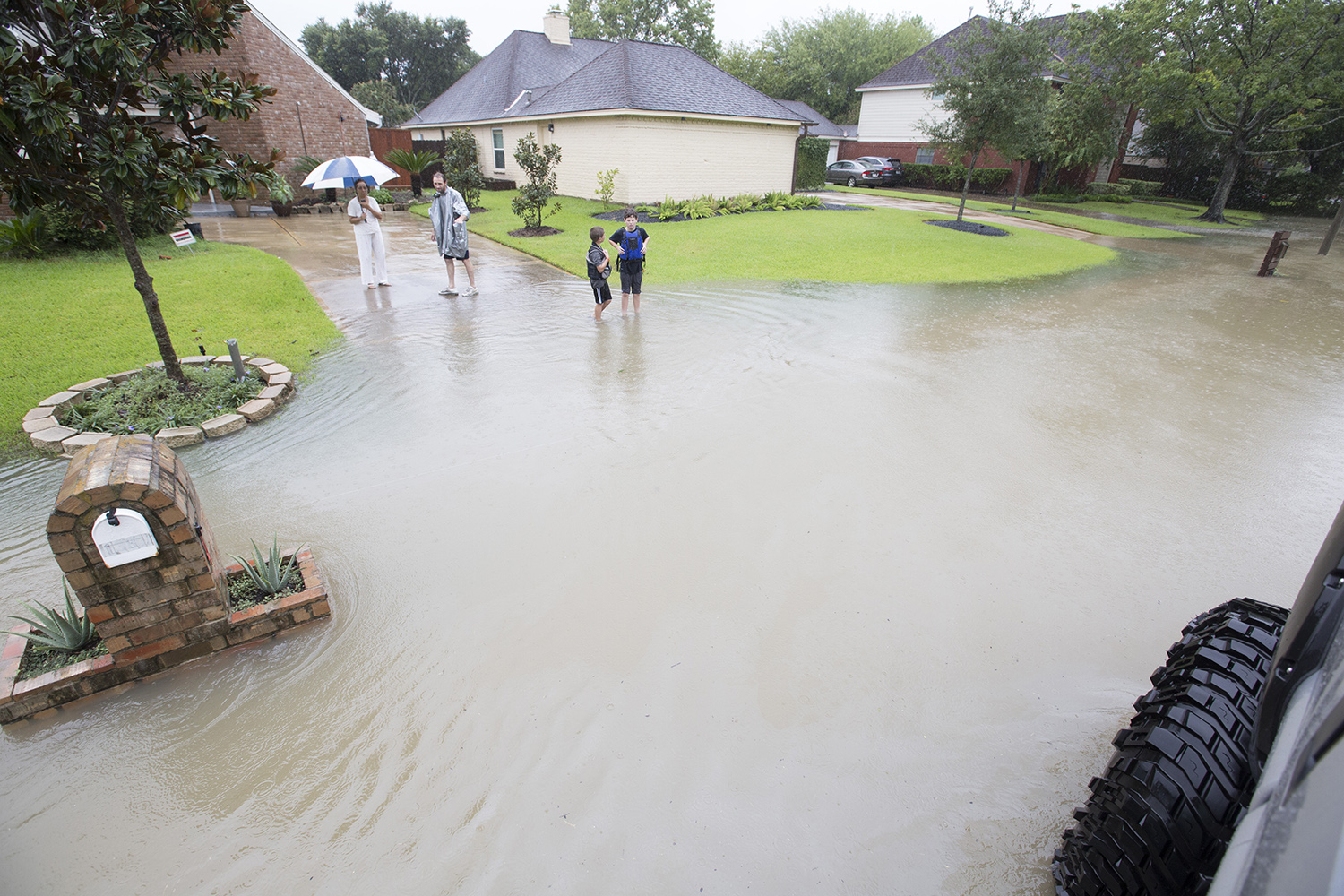 "Hey, mom," said Ginter, covered in a subtle sheen of sweat, quickly informing her he had a news reporter in his truck.
"I have to make mom proud," he said, only half joking, after hanging up.
There weren't that many people left in the neighborhood who wanted to leave, Ginter said. A man standing with his family on a narrow strip of dry land between the flooded street and his garage door turned away Ginter's help, saying he was waiting for his father.
Ginter had two front seat companions — his childhood friend Robert Maguire, 34, a bar manager, and his girlfriend Gina Dyrda, 28, a bartender at a steakhouse, who Maguire had brought home from Chicago three months ago.
Ginter had borrowed his brother's truck over the weekend to rescue the couple from their swamped bayou-side townhome and they had collectively decided to keep picking people up. As of Tuesday evening, they had rescued at least 50 people, said Dyrda, a petite and enthusiastic brunette with a cupcake tattoo behind her right ear. There were lots of dogs and babies, including twin girls screaming their heads off, she said. The crew had been out until 10 p.m. the night before.
"Last night was sad — very sad — because we couldn't fit everyone," Maguire said. They had been worried about getting stuck in one of the prolific manholes whose covers had floated away, but didn't think they had encountered one yet. They weren't sure if even the monster tires could traverse them.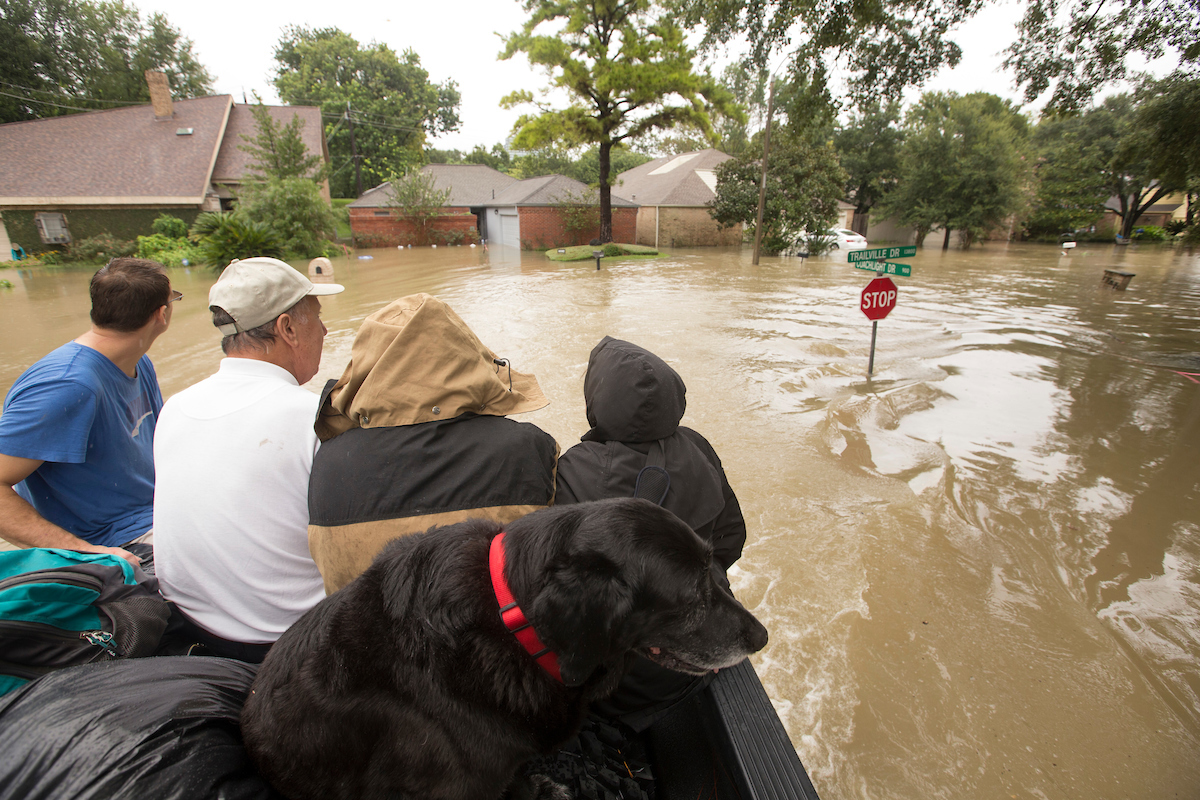 They dropped their evacuees on the dry end of a boulevard abutting the neighborhood, wedged between a strip mall with a dentist's office and a Sylvia's Enchilada Kitchen, where citizen volunteers helped evacuees down from the truck with a step ladder. Others waded out into knee-deep water to pull in smaller boats.
Dozens of onlookers had gathered there by Tuesday evening, a crowd representative of the most racially and ethnically diverse major city in the U.S. — black, white, Latino, east and southeast Asian. A young South American couple casually sipped yerba mate from a stainless steel straw and mug.
Many of them lived nearby and were wondering if the rising waters would eventually reach their own homes. Even though the rain had let up and nagging gray clouds had moved aside, revealing bright blue skies, water levels were continuing to rise with the U.S. Army Corps of Engineers releasing water from upstream reservoirs to help minimize flooding of homes around the detention ponds. They had upped the release rate, and were considering releasing even more into an already swollen Buffalo Bayou, which many of the homes in the neighborhood backed up to.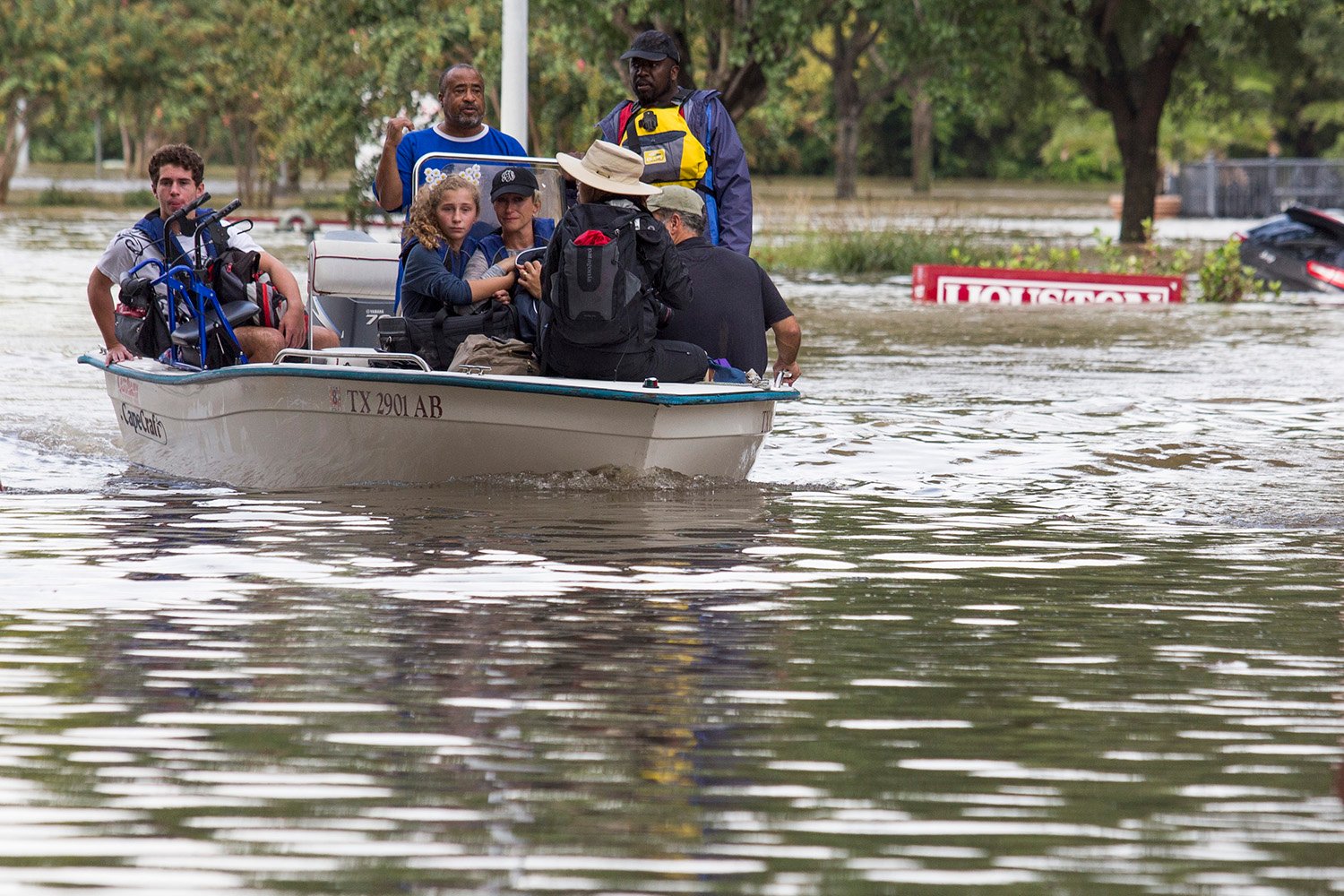 The onlookers gawked somberly as boats arrived filled with blank-faced senior citizens — hovered over by worried adult children — and families with teary-eyed mothers. They carried rolling suitcases, trash bags stuffed with clothes and pet carriers with anxious dogs and cats.
Some were calm, or maybe just in shock. Others even looked annoyed. Many had never flooded before.
And many hadn't wanted to leave — even a woman caring for her father who needed dialysis the next day.
Emily, who teaches math at a private Christian school and refused to give her last name, said she had been "prepared to live on beans, indefinitely," even as water steadily flowed into her garage. The power had been out and she was all alone — her husband was on a business trip and her two kids were away at college. Then a neighbor arrived and told her there was a mandatory evacuation for the area and citizen rescuers were starting to leave the neighborhood, having scooped up almost everyone who wanted to leave.
"Every house was like its own island," Emily said.
While poorer areas were surely harder hit, the scene that played out near the posh neighborhood was evidence that Harvey did not discriminate. Still, Dyrdra said many evacuees told her they had no place to go. Surely some would hitch a ride to a hotel. Others with fewer means would head to one of several shelters that had popped up around the city. They had at least made it this far.
In retrospect, it would be a good thing. By the next day, floodwaters had risen in the neighborhood by several more feet.
Neena Satija contributed to this report.
Read related Tribune coverage:
Author: KIAH COLLIER – The Texas Tribune
***previous story 8/30 130a
Texas Tribune: Harvey Delays Opening of Several Texas Schools; Some Become Shelters
Last Thursday, Superintendent Wanda Bamberg honored Aldine ISD students who took extra classes this summer to graduate. The next morning, she and her teachers were putting library books on higher shelves, where they would be less likely to be inundated by flooding.
"We were celebrating for the kids Thursday and then trying to protect the rest of them on Friday," she said.
Instead of overseeing the Houston-area school district this week, Bamberg is helping oversee relief efforts at two Aldine ISD buildings being used to shelter evacuees as Hurricane Harvey continues to flood Southeast Texas. According to a state tally, all 51 school districts across the Houston area have postponed the start of classes until next Tuesday, affecting more than 1 million students, as they figure out how their infrastructure will recover from the unprecedented volume of water now blocking highways and destroying homes.
More than 200 school districts experienced delays due to the storm, by the state's estimated count. Those ranged from a couple of hours in nearly 10 Central Texas districts to indefinite closures in four smaller school districts farther south on the Gulf Coast.
With coastal schools sustaining major physical damage and Houston-area and eastern Texas schools bracing for another blow from Harvey this week, no one knows when students will be able to start classes again. In the meantime, school buildings that weathered early parts of the storm are being put to use.
The American Red Cross is using the Aldine ISD's M.O. Campbell Center, just north of Houston, to provide shelter for people displaced by flooding. Normally a multipurpose facility hosting graduations and banquets, the center is now a temporary home for about 1,400 people, Bamberg said.
Aldine ISD cafeterias were already stocked with food this week, awaiting tens of thousands of students expected to start their second week of school. Teachers and administrators are lending helping hands, making sandwiches and carting supplies.
Bamberg estimated that water seeped into about five of Aldine's buildings, leaving them with minor damage. But no one knows when the floodwater will recede.
"You have to think about not only whether your kids will be able to make it, but also will you have your staff members able to come in and work?" she said.
After brainstorming internally and with various school districts earlier in the week, the Texas Education Agency on Tuesday published a basic list of resources and guidelines for school officials working to manage the displacement of families and rebuild their classrooms in the 58 counties cited in Gov. Greg Abbott's disaster proclamation. It will also provide waivers for school districts in those counties that were forced to cancel classes so they do not have to make up those days on the calendar.
"We're doing our best to get as much out there that is as certain as possible, but it is a fluid situation," said Lauren Callahan, agency spokeswoman. Agency officials hope to have a better idea next week of when schools hit by the disaster will be able to start running, dealing with the long-term damage on a "case-by-case" basis.

School districts are continually providing updated information to families through social media.
The Texas Department of Agriculture issued a release Tuesday pledging to allow schools to feed any students affected by the hurricane for free.
Cypress-Fairbanks ISD Superintendent Mark Henry estimated that 10 to 12 of the district's buildings have suffered significant water damage. Unable to physically survey some of the buildings, officials are using their camera systems to assess the damage.
"We expect when this is all said and done, this will be a multimillion-dollar damage claim to our facilities," he said.
The district's Berry Educational Support Center, about 30 miles northwest of Houston, opened Monday to provide temporary shelter for people waiting to be evacuated. The 9,000-seat sports arena and conference center has a commercial kitchen on-site, as well as several bathrooms and showers. The food that was supposed to be sold at the concession stand in the football stadium is now feeding those fleeing the storm. Local officials are using Cypress-Fairbanks ISD school buses to transport people to shelters. Individuals and organizations donated cots and blankets for people to sleep on.
Henry said it's important to get kids back into a school routine as soon as possible, but he doesn't know if classes will start again next Tuesday as currently scheduled.
"We've lost students at least temporarily to Dallas and Austin and other places," he said. "We want to get up and running as soon as possible. I wish I could say what date."
He wishes he had been more prepared for a potential 50 inches of rain. He would have asked for donations earlier and made different decisions about which facilities to open for shelter. "Moving forward, we're going to make a disaster plan for something as traumatic as this one," he said. "If we plan for something like this, I think everything else will seem minor."
Schools in Houston ISD also opened to help displaced families over the weekend, but the city shut them down by Monday because of safety concerns.
In Klein ISD, 30 miles north of Houston, pens used for livestock shows in the multipurpose center now serve as temporary homes for dozens of pets accompanying their owners out of the brunt of the storm. Continued flooding Monday night resulted in another round of evacuations, so district officials opened Klein Oak High School.
They put more than 250 inflatable mattresses in the two competition gymnasiums attached to the high school, turned the office space into a command center, started a nurse's clinic in one section, and provided four computers for people to fill out their disaster assistance paperwork, according to Thomas Hensley, principal of the high school. "All day long, people have shown up in droves, saying, 'What can I do? Give me anything. How can I help?'" he said.
"Being able to run a shelter right here in part of our community as part of the community has been, honestly, it's been heartbreaking. These are people we teach. These are people we teach with," said Superintendent Bret Champion.
District officials are in communication through social media and phone calls with parents and students, and with other school districts, to figure out each step. Though Klein ISD schools are scheduled to open next Tuesday, they realistically will open whenever it's safe again for people to travel through their communities.

"Every kid and employee will be walking into a safe environment in Klein ISD when we make the decision to open," Champion said.
Read related Tribune coverage:
Author: ALIYYA SWABY – The Texas Tribune
***previous story 8/29 550pm
Texas Tribune: Five days after Harvey, here's where things stand in Texas
Nearly five days after the hurricane-turned-tropical storm first touched Texas soil, Harvey has broken state rainfall records and sparked unprecedented flooding across Southeast Texas and the city of Houston, where residents are desperate for relief.
Here's where things stand:
A presidential visit
President Donald Trump is in Texas today, meeting with state leaders and receiving briefings on Harvey recovery efforts. Trump was in Corpus Christi earlier this morning, and has wrapped up a briefing in Austin, where he was joined by federal officials and multiple members of Congress. He's en route back to Washington, but mentioned during a press conference Monday he may return to the state later this week.
During his visit, Trump said while recovery "will be a long and difficult road," the federal government plans to work hand-in-hand with Gov. Greg Abbott and the state to provide resources and support.
"Nobody's ever seen anything like this, and I just want to say that working with the governor and his entire team has been an honor for us," Trump said. We've pledged our full support as Texas and Louisiana recover from this devastating and historic storm."
Rescue and relief efforts
More rain is in the forecast
Harvey has made its way back to the Gulf of Mexico for now, but it's expected to make a second landfall in East Texas and Louisiana later this week, dumping between 6 to 12 inches of rain in those areas through Friday.
Rain, rain, go away
Read related Tribune coverage:
Authors:  CASSANDRA POLLOCK AND ALEX SAMUELS – The Texas Tribune
***previous story 1145a 8/29
Texas Tribune:  Trump visiting Corpus Christi, Austin to see Harvey recovery
President Donald Trump is visiting Texas on Tuesday to see the recovery efforts underway in the aftermath of Hurricane Harvey.
Air Force One touched down at about 11:15 a.m. in Corpus Christi, the city along the Central Texas coast near where Harvey made landfall Friday as a Category 4 storm. The president is set to get an update there on relief efforts with state leaders and relief groups.
Trump will then head to Austin, where he will tour the Emergency Operations Center and receive a briefing with state leaders, according to the White House.
Trump's schedule in Texas does not appear to be entirely finalized. Sarah Huckabee Sanders, the White House press secretary, told reporters aboard Air Force One that Trump's schedule is "a little bit more fluid today than a normal travel day" due to the weather and other storm-related circumstances, according to a pool report.
"The president wants to be very cautious about making sure that any activity doesn't disrupt any of the recovery efforts that are still ongoing, which is the reason for the locations we are going here today," Huckabee Sanders said. "As of right now, I don't know that we will be able to get to some of the really damaged areas."
First Lady Melania Trump is joining her husband for the trip. Gov. Greg Abbott, who greeted Trump at the Corpus Christi airport, is also expected to accompany the president throughout the day in Texas, as are U.S. Sens. John Cornyn and Ted Cruz.
"Weather permitting," Lt. Gov. Dan Patrick will join Trump in Corpus Christi, according to Patrick's office.
A number of Cabinet and other administration officials are set to attend the briefings in Corpus Christi and Austin, according to the White House. They include Elaine Duke, acting secretary of the Department of Homeland Security, Ben Carson, secretary of the Department of Housing and Urban Development; and Tom Price, secretary of the Department of Health and Human Services.
The briefing in Austin is expected to include 14 members of Congress from Texas.
Trump's trip Tuesday may not be the only time he visits Texas this week. He suggested Monday he could return this weekend while also traveling to Louisiana.
Vice President Mike Pence, in a radio interview Tuesday morning, said he and his wife will visit southeast Texas later this week.
Read related Tribune coverage:
Author: PATRICK SVITEK – The Texas Tribune
***previous story 9:30am 8/29
Texas Tribune:  Amid Harvey havoc, northeastern politicos sourly recall Texas "no" votes on Sandy aid
WASHINGTON – Many New Yorkers and New Jerseyans serving in Congress have, for nearly five years now, kept a list of names handy to roll out at a moment's notice. They call it "the Comeuppance Caucus."
For some, the list is on a physical paper or bookmarked on a computer. For others, it's merely tattooed into their brains. It consists of which colleagues voted against Hurricane Sandy funding back in 2013, and it's chock full of Texas Republicans.
In fact, nearly every Texas Republican who was serving in Congress at the time voted against the $50.5 billion aid bill. And now their own constituents are facing the biggest natural disaster in state history.
"There is deep and lingering resentment by members of Congress who needed help in their districts when Sandy just ravaged their constituents," said former U.S. Rep. Steve Israel, a Democrat who represented Long Island until he retired last January. "[U.S. Sen] Ted Cruz and others led the fight against that aid, and a lot of people said there would be a day of reckoning."
Israel served in the Democratic House leadership in 2013, and his comments reflect numerous conversations happening within both the New Jersey and New York delegations since Harvey landed in Southeast Texas over the weekend, sparking widespread devastation and flooding.
Back in early 2013, Congress easily passed a massive funding package to support the victims of Hurricane Sandy, a storm that hammered the northern Eastern Seaboard just before the 2012 election.
Yet it galled many members from the region at the time  that Republicans representing coastal states like Texas that are also susceptible to hurricanes would not back the bill, citing spending in it viewed by some as pork-barrel spending.
"Hurricane Sandy inflicted devastating damage on the East Coast, and Congress appropriately responded with hurricane relief," said Cruz in a statement at the time. "Unfortunately, cynical politicians in Washington could not resist loading up this relief bill with billions in new spending utterly unrelated to Sandy."
Both Cruz and his fellow senator from Texas, John Cornyn, as well as every Texas Republican in the U.S. House save for John Culberson of Houston, ultimately voted against the Disaster Relief Act of 2013.
Yet Cruz – often viewed as the most brash of the Texas delegation – has become the favorite target in recent days of current and former Northeast members gleefully noting that the shoe is now on the other foot.
U.S. Rep Peter King, a Long Island Republican, took the biggest shot at the delegation on Saturday, tweeting, "Ted Cruz & Texas cohorts voted vs NY/NJ aid after Sandy but I'll vote 4 Harvey aid. NY wont abandon Texas. 1 bad turn doesnt deserve another."
Democratic U.S. Rep. Kathleen Rice, concurred with her Long Island neighbor an hour later on Twitter.
And then on Monday, U.S. Rep. Frank LoBiondo, a New Jersey moderate Republican, added to the dogpile, calling the Texans who voted against Sandy relief "hypocritical based on geography."
Even New Jersey Gov. Chris Christie joined in.
"The congressional members in Texas are hypocrites," Christie told reporters Monday. "Even though I'm sure there's going to be some temptation by New Jersey House members in particular to drag their feet a little bit based upon what these folks in Texas did to us during Sandy, I'm going to be urging all our members to rise above that and provide the aid as quickly as possible."
That U.S. Rep. Bill Pascrell offered some of the more measured criticism of the Texas delegation, remarkable considering the fiery New Jersey Democrat's reputation for rumbling with Republicans at any opportunity.
Cruz called the commentary "political sniping" in a Fox News interview Monday.
"I have been spending day and night … trying to marshal federal assets to save lives," he said. "That needs to be the priority. The silliness of Washington, we can worry about that a different time."
When asked if Hurricane Harvey had changed his mind about his stance in 2013, Cruz stood by his vote.
"Of course not," he said. "As I said at the time, hurricane funding is a very important federal responsibility, and I would have eagerly supported funding for that, but I didn't think it was appropriate to engage in pork-barrel spending, where two-thirds of that bill was unrelated spending that had nothing to do with Sandy."
"It was simply politicians wasting money," he added. "That shouldn't happen."
But Israel countered that what Cruz and others might consider as pork "was significantly vital to rebuilding our region."
The Washington Post's Fact Checker dug into Cruz's latest remarks on Monday and ruled that "it is wildly incorrect to claim that the bill was 'filled with unrelated pork.' The bill was largely aimed at dealing with Sandy, along with relatively minor items to address other or future disasters."
Privately, several sources close to Texas Republican members echoed Cruz's comments about wasteful spending but did not want to speak publicly about the issue.
But also, there was a sense that many in Texas were startled to see such anger from Northeast members of Congress while the rain still fell in Houston. And some northeastern sources in Congress bristled some at the timing of the angry tweets and comments, given the suffering in Texas.
And not everyone is mad at the Texas GOP delegation.
U.S. Rep. Leonard Lance, R-New Jersey, had no interest on Monday in engaging in the regional political war.
"I want to make clear and be as emphatic as possible: I do not approach with this a sense of anger," he told the Tribune. "I supported funding for Sandy and will for this horrible situation."
And U.S. Rep. Carolyn Maloney, a New York City Democrat, tweeted: "I'm praying for anyone suffering from Hurricane Harvey & stand ready to support any federal assistance needed."
Congress returns on Tuesday and will have a whole host of new problems to sort out, on top of a slew of budget deadlines barreling toward the two chambers. Is there a chance that the Sandy vote will come back to haunt Texas?
The bipartisan message blowing in from the Northeast: Congress will deliver the funds to Texas. While there is no interest in punishing fellow Americans, these members do want those in Congress from Texas to know just how personally they took those "no" vote when their own constituents were in trouble four and a half years ago.
"New Yorkers made the argument that when a storm strikes, it's not striking one region, it's striking the whole country, and I think my colleagues will be faithful to put their [voting] cards in and pushing the button," said Israel.
"Until then, I think they're enjoying making a point."
Patrick Svitek contributed to this report. 
Read related Tribune coverage:
Author:  ABBY LIVINGSTON – The Texas Tribune
***previous story 8/28 1145pm
Texas Tribune:  Trump to visit Corpus Christi, Austin to see Harvey Recovery
President Donald Trump is coming to Texas on Tuesday to see the recovery efforts underway in the aftermath of Hurricane Harvey.
Trump is scheduled to first visit Corpus Christi, the city along the Central Texas coast near where Harvey made landfall Friday as a Category 4 storm. The president will get an update there on relief efforts with state leaders and relief groups.
Trump will then head to Austin, where he will tour the Emergency Operations Center and receive a briefing with state leaders, according to the White House.
First Lady Melania Trump is set to join her husband for the trip, the White House said. Gov. Greg Abbott is expected to also accompany Trump on the swing through Texas.
Read related Tribune coverage:
Author: PATRICK SVITEK – The Texas Tribune
***previous story 8/28  5:15pm
Texas Tribune: Governor activates full Texas National Guard as Harvey rescue efforts continue
Nearly three days after Hurricane Harvey made landfall in Texas, more statewide resources were deployed to address rescue efforts in Southeast Texas Monday.
Gov. Greg Abbott announced he has activated the entire Texas National Guard in response to Harvey, bringing the total number of deployed personnel for rescue efforts to 12,000. "It is imperative that we do everything possible to protect the lives and safety of people across the state of Texas as we continue to face the aftermath of this storm," the governor said in a released statement.
President Donald Trump is set to visit the city of Corpus Christi and possibly surrounding areas affected by the storm on Tuesday. During a press conference Monday afternoon, Trump promised Texans would receive federal funding for rebuilding efforts, and also mentioned he may revisit the state again on Saturday.
"The rebuilding will begin, and in the end, it will be something very special," said Trump, adding he had just spoken with Abbott. "They're saying [Harvey is] like the biggest ever. It's historic. It's like Texas. It's really like Texas, if you think about it.
Meanwhile, in Houston, first responders are focusing first on helping the elderly, disabled and those in life threatening situations, Mayor Sylvester Turner said during a news conference Monday. He added, "Our goal is to try to reach everyone today and get them out of stressful situations."
A family of six was believed to have drowned in a van while trying to escape Hurricane Harvey in Harris County, Houston-based KHOU reported Monday. The news was confirmed to KHOU by three family members but had not yet been verified by local officials. The victims included four children — all of who were younger than 16 — and their great-grandparents, according to KHOU, which reported that the driver of the vehicle managed to escape before the van was swept up in the flood current.
Houston, the fourth largest city in the nation, was one of the many areas in Texas devastated over the weekend — and some parts of the state may receive more than 50 inches of rain in the coming days, which would break state records.
After receiving a briefing on the storm Monday afternoon in Corpus Christi, state officials braced Texans for a potentially years-long recovery.
"There is a reality we have to come to grips with: We are just beginning the process of responding to this storm," Abbott told reporters.
"This is going to be a long haul," added U.S. Sen. John Cornyn, R-Texas.
Abbott and Cornyn were joined at a news conference by FEMA administrator Brock Long, who said the agency is prepared to spend "several years" in Texas helping with the recovery.
Back in Houston, U.S. Sen. Ted Cruz, R-Texas, told reporters at a Red Cross shelter he had spoken Trump, Vice President Mike Pence and several over federal officials about Harvey over the past several days.
"What we're hearing consistently is a commitment to provide every resource needed," he said. "I spoke with the president — he just said, 'Ted, what do you need, what does the state need? The answer is yes.'"
For a glimpse into the scope of Harvey's impact in Texas, the 54 counties included in Abbott's Texas disaster declaration make up 41 percent of the state's 27.9 million population. On top of that, the Insurance Council of Texas has estimated Harvey-related damages will top Hurricane Ike's $12 billion clean up in 2008.
Relief efforts are continuing around the state, too. Volunteer firefighters in smaller Texas towns are rescuing people trapped by the floods, and shelters in San Antonio and Austin are filling up.
Meanwhile, the U.S. Border Patrol said in a joint statement with Immigration and Customs Enforcement Monday that the agencies had deployed several marine vessels and agents to aid in related Harvey rescue missions, adding they would prioritize "life-saving and life-sustaining" operations, maintaining order and the prevention of loss of property.
The border patrol also said it would not conduct noncriminal immigration enforcement investigations at evacuation sites or other assistance centers but would stay "vigilant against any effort by criminals to exploit disruptions caused by the storm."   
In Dallas, Mayor Mike Rawlings announced Monday that the city — home to more than 1.3 million people — would begin receiving evacuees affected by the storm that afternoon.
AUTHOR: CASSANDRA POLLOCK – The Texas Tribune
***previous story 257pm 8/28
Tx Militar:y Dept: Domestic Operations Commander Named Texas Dual Status Command for Hurricane Harvey Recovery Efforts
AUSTIN – Maj. Gen. John F. Nichols, the Adjutant General of Texas, is pleased to announce Brig. Gen. Patrick Hamilton, of Round Rock, has been named Commander of the Dual Status Command for Hurricane Harvey recovery efforts.
He will lead the approximately 12,000 military men and women from the Texas Army and Air National Guards, Texas State Guard and other federal entities supporting these efforts.
The request made by Governor Greg Abbott, for Texas National Guard Dual Status Command, was granted, today, by Secretary of Defense General James Mattis. Through a Memo of Agreement, Secretary Mattis granted Governor Abbott's request, which allows for a centralized command and control operation, as well as allows federal and state troops a singular chain of command.
"I am grateful for the quick action of the Secretary Mattis and the White House for providing Texas the recourses and flexibility we need to respond to the devastation caused by this storm," said Governor Abbott. "My top priority is the safety and security of Texans and this DSC will allow us to make sure people get the help they need especially those in life-threatening danger. I also thank Brigadier General Hamilton for his leadership during this trying time, and all our brave first responders for their countless acts of bravery and selflessness."
Currently, Hamilton currently serves as the Director, Joint Staff of the Texas Joint Force Headquarters and Commander of the Domestic Operations Task Force. The Domestic Operations Task Force is comprised of over 4,000 Soldiers and Airmen and provides defense support to civil authorities across the state of Texas, to include border security operations, counterdrug operations, as well as hurricanes, floods, wildfires and winter storms.
"This agreement will allow General Hamilton to serve as the direct link between both the state and federal counterparts, allowing for a quicker more efficient response that enables us get the much needed help to the citizens of Texas," said Maj. Gen. John F. Nichols, Texas Adjutant General. "Gen. Hamilton's leadership and his ability to command is a testament to why he was selected for this position."
Hamilton is a highly experienced and decorated leader with an extensive career of military service.  He commissioned from Texas A&M University in 1985, is a career Armored Cavalry officer and has commanded at all levels, from platoon through brigade. Hamilton earned a Bachelor of Science degree in Education, and holds a Master of Strategic Studies degree from the United States Army War College.
***previous story 8/28 905am
TxTrib: Why not evacuate before Harvey? Houston leaders defend their calls to stay put
Walking the soggy streets of her League City neighborhood, Diane Alston said she was "heartbroken" that so many people waited out Harvey's steady rains from inside their flooding homes, following instructions from local officials.
Alston, 23, looked like one of the lucky ones in this community about 25 miles southeast of Houston, even if she spent most of Friday night moving furniture in her two-story home to reduce the chances any of it gets ruined by floodwater. On Sunday, her family still had electricity and their street wasn't completely under water.
But the others?
"Now they're having to be rescued," Alston said. "If we had known it would be like this, I think we would've left."
At least five people have already been reported dead as Harvey, previously a hurricane and now a slow-moving tropical storm, continues to feed rising waters across the nation's fourth largest city and its surrounding communities. As the waters strand thousands of folks in their homes and send some onto rooftops — a chorus of onlookers have asked: Why didn't local officials order mandatory evacuations, as more than a dozen other smaller Texas cities and counties did?
Such a decision is thorny in any community, and only grows more so in such a sprawling metropolitan area.
On Friday, with the hurricane-turned tropical storm approaching the Gulf Coast, Gov. Greg Abbott told folks in Corpus Christi and Houston, the two largest cities in the storm's path, to "strongly consider evacuating" northward. While Corpus Christi issued a voluntary evacuation, neither Houston nor Harris County issued any such evacuation order at all.
Ultimately, mayors and county judges are charged with making such decisions. Leaders in Houston and Harris County told residents to stay put ahead of the storm and have since defended those decisions — even as bayous spill into the streets in what might be the worst flood event the area has ever seen.
"To suggest that we should have evacuated 2 million people is an outrageous statement," Harris County Judge Emmett told CNN on Sunday.
Emmett and others have offered a litany of reasons for hunkering down. That includes the reality that such a mass evacuation can turn into logistical nightmare with huge safety risks of its own.
"People disproportionately die in cars from floods, so evacuation is not as straightforward a call as seems," Marshall Shepherd, a program director in atmospheric sciences at the University of Georgia, tweeted Sunday.
Shepherd pointed to data from the National Oceanic and Atmospheric Administration showing that drivers accounted for 66 percent of U.S. flood fatalities in 2014.
For a vivid example of what can go wrong in a large-scale evacuation, Texans can look twelve years back to Hurricane Rita, when more than 3 million people from south and southeast Texas set off on one of the largest evacuations in U.S. history.
The backdrop of that blistering summer in 2005: Just three weeks earlier, Hurricane Katrina had submerged New Orleans and killed 1,200 people when Rita barreled toward the coastline. Texans didn't want to stick around to see how Rita would compare, so they bolted — or tried to.
Traffic jams stretched across hundreds of miles over two days, and many people ran out of gas. Dozens died from accidents and heat-related illnesses, all before Rita even made landfall.
Of the 139 deaths that the state linked to Hurricane Rita, 73 occurred before the storm hit Texas. Twenty-three people died in a bus fire. Ten others died from hyperthermia due to heat exposure. In the years since Rita, state and local officials say new laws and better planning would help the state's next evacuation go more smoothly, but Houston mayor Sylvester Turner this weekend indicated Rita's legacy factored into his decision.
"You cannot put, in the city of Houston, 2.3 million people on the road…That is dangerous," he said in a press conference Sunday. "If you think the situation right now is bad — you give an order to evacuate, you create a nightmare."
Emmett, the Harris County Judge, has pointed to additional factors in defense of calls to stay, drawing distinctions between danger from Harvey — primarily rainfall — and the hurricanes that struck before it.
"When we have hurricanes, we know who to evacuate, because you have a storm surge coming, and we have that down to a very fine art," he told CNN Sunday. "In this case, we have a rain event. Unless you know where the rain is going to fall, we don't know who to evacuate."
While ordering a hurricane evacuation is common, telling residents to flee a rainstorm is rare, if not unprecedented. "We've had three major rain events in the past two years. This is now the fourth," Emmett said.
Emmett, in the CNN interview, bristled at those who were pushing conflicting messages. That included retired Lt. General Russel Honoré, who commanded a joint task force that responded to Hurricane Katrina.
"If you are living in an area that's flooded before, you need to evacuate," he told CNBC Friday. "Because it's going to flood, and the roads are going to close and when the roads are going to close, the power is going to go out, and you're going to be isolated in that home alone."
Alston, who said she didn't realize the full scope of the storm until the day before it struck, said it was "mind boggling to see the conflicting messages from city and state officials."
Abbott, for his part, said he's not spending his time second-guessing local officials.
"As far as the evacuation, now's not the time to second guess the decisions that were made," he said at a news conference Sunday. "What's important is that everybody work together to ensure that we are going to first save lives and then second help people across the state rebuild."
Harris County wasn't the only Harvey-hit community where residents were told to stay in place. Corpus Christi and Nueces County refrained from calling for mandatory evacuations before the storm took aim Friday.
Corpus Christi was largely spared from massive property damage and life-threatening destruction when the storm hit farther east along the coast, killing at least one person in Aransas County, where an evacuation order was mandatory.
"I think we made the right decision," Corpus Christi Mayor Joe McComb said Friday, before the storm hit. "That was after a lot of conversation, a lot of dialogue."
Alana Rocha, Edgar Walters and Neena Satija contributed to this report. 
Read related Tribune coverage:
Authors: JIM MALEWITZ AND BRANDON FORMBY – The Texas Tribune
***previous story below – 8/27 1045pm
TxTrib: This is already Houston's "worst flood." It's Only Going to Get Worse
As the sun set Sunday on a flood-ravaged Houston, a nagging uncertainty surrounding Tropical Storm Harvey's next move persisted.
Even 24 hours earlier, no one knew exactly how much rain the storm would bring to the sprawling metropolitan area.
But meteorologists' worst case scenario ended up coming true: Harvey strengthened and dumped as much as 22 inches of rain in certain areas throughout the night and into Sunday evening, flooding countless homes, stranding families on rooftops and killing at least five people.
Scientists say the storm is likely to be the most devastating flood the Houston region has ever seen — even more so than Tropical Storm Allison in 2001, which was the worst rainstorm to ever befall an American city in modern history.
"The economic impact should be greater than any other flood event we've ever experienced," said Sam Brody, a scientist at a Texas A&M University at Galveston who specializes in natural hazards mitigation. "And it's going to take years for these residential communities to recover."
***previous story below 8/27
Houston and other parts of southeast Texas are experiencing "catastrophic, life-threatening flooding," federal officials said Sunday, as Harvey, now a slow-moving tropical storm, hovers over the region, dumping rainfall.
At least five people in the Houston area are dead, the Houston Chronicle reported. Across the region, rising waters stranded people in their homes and on rooftops, and entire stretches of freeway were submerged. Officials believed the first fatality to be a woman who was found dead near her car, in which she had likely been trapped during a flood, according to the Washington Post.
"We're urging people to stay off the streets," Gary Norman, a spokesman for Houston's emergency management system, told the Post. "We're still very much in rescue mode."
Houston Mayor Sylvester Turner wrote on Twitter that Houston 911 was being overwhelmed with calls but was still functional.
"There are a number of stranded people on our streets calling 911 exhausting needed resources," he wrote. "You can help by staying off the streets."
Houston Police Chief Art Acevedo told people in flooding areas to consider climbing on top of the roof of their homes.
"Reports of people getting into attic to escape floodwater – do not do so unless you have an ax or means to break through onto your roof," Acevedo wrote on Twitter.
Between Saturday and Sunday morning, Houston and Galveston received about two feet of measured rainfall, the National Weather Service said. The region is expected to receive up to two more feet of rainfall over the coming days.
"I know for a fact this is the worst flood Houston has ever experienced," Patrick Blood, a National Weather Service meteorologist, told the Chronicle.
"Worse than Allison," the 2001 tropical storm that sat over Houston, causing nearly two dozen deaths and extreme flooding, Blood said. "It's so widespread."
With emergency resources strapped, social media became a channel where pleas for rescue were issued for those trapped by flood waters that are expected to keep rising. The posts gave glimpses of the unfolding crisis and included exact addresses, names and pictures of southeast Texas' stranded residents.
One woman asked for help for a 70-year-old man trapped in a one-story house without an attic on S. Braeswood Boulevard in Houston. Another asked for help for a couple and their two cats in Dickinson, Texas.
"Please help if you can or get this information to authorities," claimed a postfrom twitter user Alicia Stepp. "The entire street of Colony Creek Drive needs rescue."
Yet another asked for help for 10 people, 3 dogs and two cats stuck on a roof in Dickinson. One post about a Houston family, which included a sick child, came with a picture of the people standing on their rain-soaked roof.
Harvey made landfall late Friday as a Category 4 hurricane that left one person dead in Rockport and wreaked havoc on buildings along the Texas coast. Over time, as the storm crept inland, its wind speeds diminished and meteorologists downgraded it to a tropical storm. Once inland, the storm slowed to a crawl and dropped hours of torrential rain across southeast Texas, which caused officials to warn of catastrophic flooding for days to come.
At a Sunday press conference, Turner defended his earlier advice encouraging Houstonians not to evacuate.
"You cannot put, in the city of Houston, 2.3 million people on the road," he said. "That is dangerous." 
Added Turner: "If you think the situation right now is bad — you give an order to evacuate, you create a nightmare."
On Friday, a White House spokeswoman said the president would soon travel to Texas. But by Sunday morning, the president appeared to be delaying the trip, citing a need to stay out of the way as rescue efforts continue.
"I will be going to Texas as soon as that trip can be made without causing disruption. The focus must be life and safety," Trump tweeted Sunday morning.
Additional reporting by Abby Livingston and Brandon Formby
Read related Tribune coverage:
Author:  EDGAR WALTERS – The Texas Tribune
***previous story 8/27 via Texas Military Department
More than 2,000 Texas Guardsmen Activated for Hurricane Harvey Operations
AUSTIN – At the direction of Gov. Greg Abbott more than 2,000 members of the Texas Military Department's Army National Guard, Air National Guard and Texas State Guard are assisting in recovery efforts following landfall of Hurricane Harvey.
Soldiers and Airmen are currently providing support to flooding regions of Houston and the Texas Gulf Coast. Partnering with local first responders Guardsmen are assisting in search and rescue operations, swift water rescues and evacuations of flooding areas.
Members of the Texas State Guard are mobilized to provide local shelter operations and provide a tracking system that helps evacuees locate loved ones checking into shelters
Additional Guardsmen are on standby and will join operations as requested by the Texas Department of Emergency Management.
"We are here to help our communities," said Brig. Gen. Patrick M. Hamilton, Commander of Domestic Operations Task Force. "working alongside our partner agencies, and local first responders, we are focused on deploying Guardsmen and resources where they are needed to save lives."
Hurricane Harvey is the first hurricane to make a direct landfall on the Texas coast since 2008.
"Nothing is more important to our Guardsmen that the chance to serve their local community." Hamilton said. "Helping our neighbors when they need us most is the heart of The Guard, and why we choose to become Citizen Soldiers and Airmen
***previous story  8/27 1230a via Texas Tribune
ROCKPORT — As Ruben Sazon waited out Hurricane Harvey in his apartment Friday, he was certain that his roof was going to be ripped off.
"The howl of the wind was amazing," he said, adding that "it came in with a roar."
The roof stayed in place. But the Category 4 hurricane did enough structural damage to make his home uninhabitable, leaving Sazon with no place of his own and uncertainty about what he'll do next.
"This is the history-making hurricane," Sazon said Saturday of the storm that pummeled the area he has called home for more than two decades. "This the one people will always be talking about."
Across this battered nook of the Texas coastline, Aransas County and its residents are beginning the difficult work of installing order and a sense of normalcy after Hurricane Harvey's brutal arrival the night before. But unrelenting rain and wind from the massive storm are muddling those initial efforts.
Emergency personnel poured into Aransas County on Saturday and began assessing this normally laid-back coastal community's damage, which included complete loss of power, hundreds of millions of dollars in property damage and an untold number of impassable roads.
The seemingly random scattershot of destruction — decimated buildings, snapped power poles, downed trees — alongside completely intact structures leads officials to believe that tornadoes came with the storm.
"It's evident the way the damage is," Aransas County Judge C.H. "Burt" Mills Jr. said Saturday.
At least one person died in a house fire that officials didn't discover until after Harvey moved through. Emergency calls couldn't be made or answered during the brunt of the storm's impact. About 40 percent of the 24,500 people who call Aransas County home defied a mandatory evacuation order and stayed behind. So far, only 12 to 14 people with non-life-threatening injuries required medical attention. But local, state and federal officials on Saturday had just started arduous search-and-rescue efforts to aid anyone trapped.
They plan to evacuate those in damaged homes who can't leave on their own.
"We don't have a place to put them," Mills said. "We can't take care of them."
Despite a calvary of regional, state and federal responders, the county's inundated infrastructure and lack of power left local leaders unable to estimate when the tens of thousands who fled in a highway-clogged exodus ahead of the storm will be able to return home.
For now, officials want them to stay out. Expectations that the rain will last days forebode worsening conditions. And as the county's tiny beach towns begin the early stages of recovery, Harvey's large size and slow movement will continue to threaten other parts of the state with flood damage likely to require great demand for response resources.
Still, county leaders remained optimistic that the area will be restored and rebuilt. Fulton Mayor Jimmy Kendrick said residents love their community. As he surveyed damage early in the day, he stumbled across parishioners of a damaged church already cleaning up.
"We are one," he said.
On Saturday morning, Sazon headed to downtown Rockport to check on the studio where he paints, makes jewelry and sells his work. What had been a small, waterfront building with a turquoise awning facing the town's shop-lined Austin Street was essentially nothing more than an intact roof sitting atop a pile of collapsed rubble.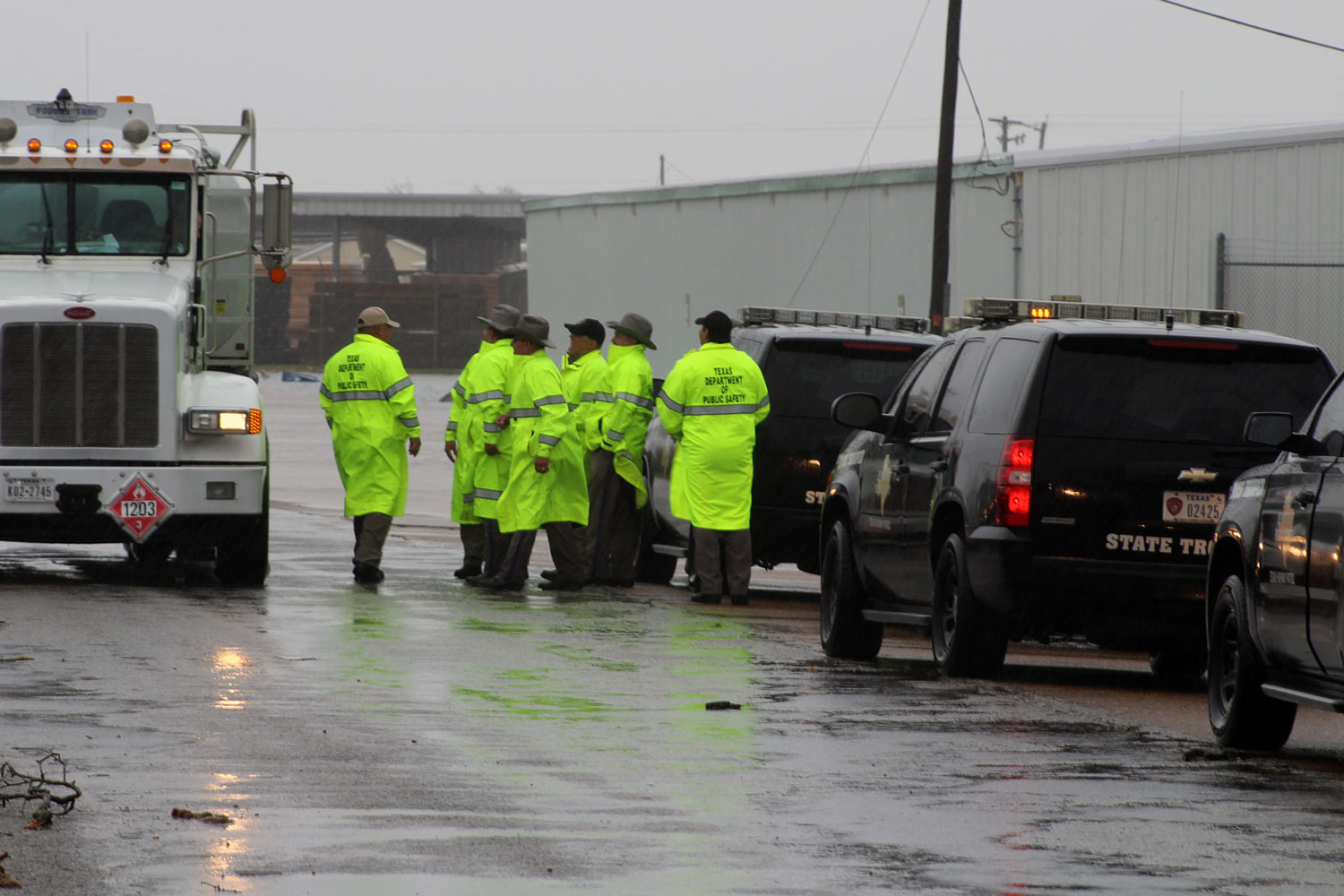 "Devastating"
Ahead of the storm, Sazon, an artist and jeweler, placed his sofa upright to block the doorway to his living room, where mattress box springs blocked a sliding glass door to his second-floor apartment's balcony.
Harvey's merciless winds broke every window in his apartment.
"All you could hear was things hitting, glass breaking," Toni Castillo, Sazon's girlfriend, said of the storm.
Sazon, who rented his apartment and the building where he ran Sazon Studio and Gallery, didn't have insurance for either. With no cellphone service, Sazon and his girlfriend didn't have a way to call relatives or friends. They planned to drive about 30 miles west to Corpus Christi and stay with his daughter. From there, they hoped to figure out what to do next.
"It's devastating to me," he said from his car in front of what had been the studio.
Hope amid concern
Troy and Laurie Rodgers had retired to a condo on Aransas Bay after spending decades vacationing in the small town. As Harvey approached, they decided to leave. Troy Rodgers left Friday, hours before Harvey made landfall. But Laurie Rodgers headed out the night before. The drive to Austin, where her sister lives, took eight hours, more than double the time it usually does. Cars were bumper to bumper for the first hour out of town.
"Every gas station was packed," she said. "The traffic was terrible."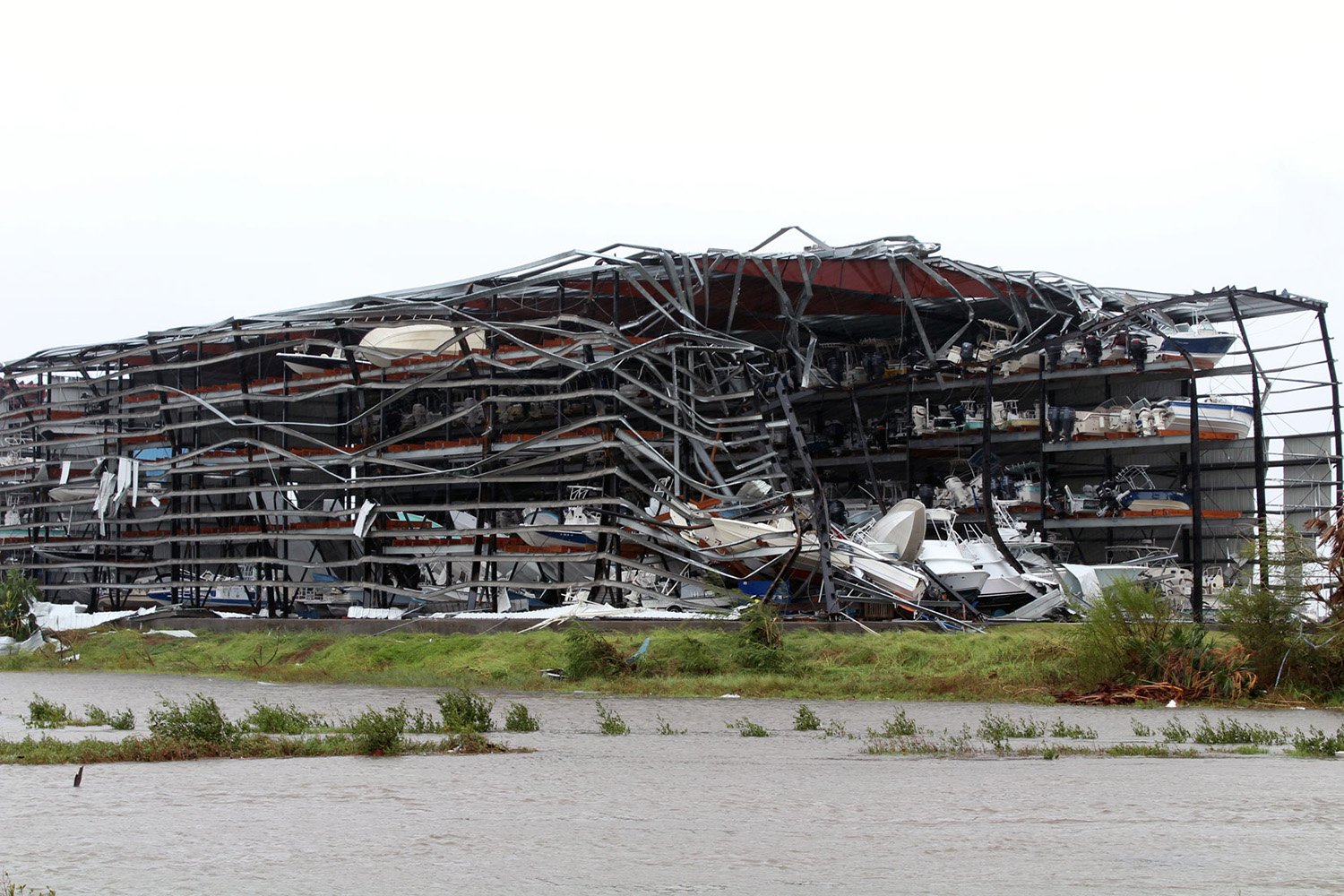 Their condo is a block from downtown, where a spattering of satellite trucks was parked Saturday so television reporters could do national broadcasts. The couple, like others who fled ahead of the storm, spent Saturday watching the coverage in shock over the damage reports.
"We kind of joke around and then all of a sudden something will hit and I'm just trying not to cry," Laurie Rodgers said. "The reality of it is kind of overwhelming."
Like local leaders, Laurie Rodgers is hopeful despite the continuing waves of concern.
"I think it will be fine," she said. "I think people will … choose to stay and rebuild."
Shannon Najmabadi contributed to this report.
Read related Tribune coverage:
Author: BRANDON FORMBY – The Texas Tribune
***previous story 8/26
Hurricane Harvey, the most powerful storm to strike Texas since 1961, slammed the Texas coastline late Friday and early Saturday, leaving thousands without power, damaging buildings and pouring down rain that is expected to cause catastrophic flooding in coming days.
The storm was downgraded to a Category 1 hurricane — with sustained winds of 85 miles per hour — Saturday morning after making landfall near Rockport as a Category 4 storm and heading inland.
As wind speeds diminished, however, the slow-moving storm continued to deluge wide swaths of coastal Texas, and the National Hurricane Center predicts catastrophic flooding over the coming days. The National Weather Service has issued flash-flood warnings for Houston and its surrounding areas.
As of Saturday morning, more than 200,000 Texans had lost power, according to the Electric Reliability Council, which operates the state's power grid.
The storm first made landfall around 10 p.m. Friday with wind speeds around 130 miles per hour. Local news reports from Rockport indicated many buildings were damaged overnight. After a roof collapsed at a senior housing complex, at least 10 people there were taken to a nearby jail for treatment. A portion of Rockport High School caved in.
In Fort Bend County, near Houston, county officials said a possible tornado damaged homes and downed trees, the Houston Chronicle reported.
Gov. Greg Abbott announced Friday night that President Donald Trump and the Federal Emergency Management Agency, or FEMA, had approved the state's request for a disaster declaration, which includes funding to provide "individual assistance, public assistance and hazard mitigation" in Texas.
"The White House is fully engaged, very helpful and very concerned about the people of Texas," Abbott told Fox News late Friday. "Texas has received everything that we asked for from the White House."
The governor is scheduled to give an update on the storm Saturday afternoon in Austin. Check back here for updates.
Read related Tribune coverage:
Authors: BY EDGAR WALTERS AND BOBBY BLANCHARD – The Texas Tribune
*** Previous story below 8/26 1am
After making landfall between Port Aransas and Port O'Connor around 10 p.m. Friday night as a Category 4 hurricane, Hurricane Harvey was downgraded to a Category 3, with winds of up to 125 miles per hour, at 1 a.m. Saturday, the National Weather Service reported.
As Texans braced for extreme flooding and potential damage to their communities, President Donald Trump announced on Twitter he had signed a presidential disaster declaration, which will open up additional federal resources and support to the state government.
A hurricane hasn't hit Texas soil since 2008, and the coastal region's surging population and booming oil industry — coupled with past weather events — are raising concerns that the state is unprepared.
Here's what you need to know:
White House Press Secretary Sarah Huckabee Sanders announced Friday afternoon that President Donald Trump planned to visit the state next week. "It looks like the president will try to make plans to go to Texas early next week," she said, "and we'll keep you posted on details on those as they're firmed up."
White House officials went to great effort on Friday to appear prepared for a worst-case natural disaster and to urge those in the path of the storm to heed the guidance of local authorities.
Gov. Greg Abbott, who's declared a state of disaster for 30 Texas counties and has directed the Texas Department of Public Safety's State Operations Center to up its readiness level before Harvey hits, was briefed Friday on the hurricane and held a press conference afterward.
Abbott announced at the conference he requested a presidential disaster declaration related to the storm and encouraged Texans in coastal areas to evacuate their homes. But he stressed that whether to call for mandatory evacuations was a decision best left to local leaders, who he said can make better judgements for their areas.
"I can be suggestive of what I would do," Abbott said when asked if he could put pressure on local officials to encourage more evacuations, "and that is, if I were living in the Houston region as I once did, I would decide to head to areas north of there."
However, Houston Mayor Sylvester Turner appeared to take a different stance in a tweet Friday afternoon: "Please think twice before trying to leave Houston en masse. No evacuation orders have been issued for the city."
The governor also said the state has 41,000 shelter beds available for evacuees and more than 200 buses available to transport Texans out of coastal areas such as Corpus Christi, where storm surge and flooding are expected to pose the greatest risks. Texas state parks, Abbott added, are also available for evacuees to stay at no cost.
"We are going to be dealing with immense, really record-setting flooding," he said.
***previous story 8/24 12:30a
Harvey is currently a Category 1 hurricane, with winds around 80 miles per hour — but it could become nearly a Category 4 hurricane, with winds of 125 miles per hour, by the time it makes landfall this weekend.
A hurricane hasn't hit Texas soil since 2008, and the coastal region's surging population and booming oil industry — coupled with past weather events — are raising concerns that the state is unprepared. Here's what you need to know:
What's happened so far 
Gov. Greg Abbott has declared a state of disaster for 30 Texas counties and has directed the Texas Department of Public Safety's State Operations Center to up its readiness level before Harvey hits. Abbott has also announced he's getting briefed on the hurricane at the center on Friday morning.
Some Texans along the coast have been asked to move inland or seek higher ground ahead of this weekend; on South Padre Island, people are loading up on water and filling sandbags to protect vulnerable homes and businesses.
The city of Port Aransas issued a mandatory evacuation Thursday, and so did Calhoun County — a strip of land along the coast that more than 20,000 people call home. Brazoria County, which has a population of around 340,000 residents, has ordered a mandatory evacuation as well — but only for people living on the Gulf side of the Intracoastal Canal. The cities of Galveston and Corpus Christi called for voluntary evacuations Thursday afternoon.
As of Thursday afternoon, the U.S. Border Patrol said it is not planning to close its roadside immigration checkpoints north of the Rio Grande Valley unless there is a danger to travelers or its agents.
Texas A&M University-Corpus Christi issued one of its own on Wednesday, and the University of Houston has announced it's closing campus for the weekend. School districts in Houston are considering canceling the first day of classes Monday, and New Braunfels ISD just announced it was delaying its first day of school due to Harvey.
Some are already comparing Harvey to Allison, a 2001 tropical storm whose heavy and prolonged rainfall made for one of the most expensive and deadly weather events in recent Southeast Texas history.
Is the Texas coast ready?
The Texas Tribune and ProPublica asked this same question for a major investigative project last year — and found some uncomfortable answers. Houston, the largest city in the state, is seriously ill-prepared.
If a hurricane hits the thousands of storage tanks — ones that hold the world's largest concentrations of oil, gases and chemicals — that line the Houston Ship Channel just right, more than 25 feet of water could shoot up the channel. And if even one tank ruptured because of it, hundreds of thousands of people could be impacted.
When Hurricane Katrina made landfall in 2005, gushing floods caused one Houston Ship Channel refinery's oil tank to rupture — and sent oil into more than 1,700 homes a mile away. The Houston area has schools and neighborhoods that are less than a mile from large refineries and oil storage terminals.
On top of those Ship Channel fears, unchecked development has continued in Houston, creating economic success for some — but upping the flood risk for everyone.
Texas Land Commissioner George P. Bush asked local and state leaders in Juneto urge the Trump administration to fund a coastal barrier system for Texas. Protecting the state's coast was his agency's no. 1 priority this year, he said, adding, "We are just as vulnerable to a major storm today as we were in 2008 — and that's bad news."
With voluntary evacuations beginning, traffic could be a nightmare
Southeast Texas' booming population, paired with mandatory evacuations, could bring the state back to the Hurricane Rita and Ike days, when traffic jams filled some of Texas' busiest highways as people sought safer ground. It's possible that another traffic nightmare could precede what's in store this weekend, especially as people along the coast head up to Dallas, Austin or San Antonio.
As of Thursday afternoon, the Texas Department of Transportation said it hadn't yet turned some highways in the state into one-way roads to speed evacuations. The agency will only do so once there are mandatory evacuations.
"The time to leave is during voluntary evacuations because once it becomes mandatory, there's going to be a lot of traffic," said TxDOT spokeswoman Veronica Beyer. "If it does get to the point where we are having mandatory evacuations and we have to implement contraflow, it is going to take a good length of time."
Officials were encouraging people to fill up gas tanks in case local officials began mandatory clearings. The transportation agency plans to end all ferry service to and from Port Aransas on Friday morning.
"You've got until tomorrow late morning to use the ferries," Beyer said.
How Texans are reacting so far 
Some of you have shared your experience with past hurricanes and tropical storms on Twitter. @cottagelmagin said, "I remember Alicia… no power for 2 weeks, massive tree cleanup and miserable humidity." Another user, @Comeonpurpletx, said, "Alicia destroyed my house; Ike flooded family's; worried about flooding here in Clear Lake w/ Harvey." @TheMermaidAg: "Ike hit 2 weeks into my freshman year at A&M Galveston. We evacuated and spent the semester in College Station during recovery." And state Sen. Konni Burton, R-Colleyville, weighed in, too: "I remember 1 hurricane when we opened the school gym 4 pple to stay in. My dad was principal & the school was all there was."
Tweet us your experiences and tell us how you're preparing for Harvey this weekend with #MyTexasTake. Stay safe this weekend.
Take this information with you into the weekend 
Brandon Formby and Shannon Najmabadi contributed to this report. 
Read related Tribune coverage:
Author:  CASSANDRA POLLOCK – The Texas Tribune